You haven't been to Bangkok if you haven't spent at least one night at one of the bars on Khao San Road. Expect music so loud it pops your eardrums, drunk travellers dancing till the early hours of the morning and Thai students sleeping it off on the table after a night of cold Changs and cheap buckets. No, you don't go to the bars on Khao San Road for a night of meditation. But what are the best bars on Khao San Road? Here's a list of our all-time favourites.
The best bars at Khao San Road are:
1. Khao Sahn 1986

First on this list is Khao San 1986, recognized by the glowing tribal head behind the outer bar. Khao San 1986 is one of the best bars on Khao San Road to start the evening and get you into a party mood. They regularly have a live band covering Western hits in the evening but mostly they start and end the night with EDM and Hip-hop. This is a good bar for pre-drinks before moving on to one of Khao San's late-night venues. Why? The music is loud enough to get the party started, but not so loud you can't hear your new drinking buddies anymore.

Busy: 21:00 – 00:30
Music: EDM, Hip-Hop.

2. Superflow Beach Club

If you're looking for a classier venue, then Superflow Beach Club is the best bar on Khao San Road for you! The sandy floor, palm trees, alfresco setting and tropical bar make you forget you're in Bangkok's loudest street. This is a good place for families and travellers looking for a more laidback atmosphere, with a live music band setting the tone for the evening. Superflow is also one of the few bars on Khao San Road which serves good food. Don't miss their signature Tom Yum which is served from their partner restaurant Tom Yum Kung.

Busy: 19:00 – 23:00
Music: Live band

3. Khao San Center and Lucky Beer

These two bars are where your craziest nights in Khao San Road will end. The music here is so loud that even when shouting, the stranger you've just met still won't understand your name. Get a Bucket or indulge yourself with their cheap beer promotions. When you're looking for brainless partying and low-priced alcohol, these are the best bars on Khao San Road.

Busy: 21:00 – Late
Music: EDM, Hip-Hop

4. The Roof Bar

Established live music bar 'The Roof' is where you go to practise your 'Wonderwall' singing skills. The bar is located on the 3rd floor above Khao San Road, making their balcony a good spot for people watching as well. Live music bands alternate all evening, pumping out popular Western sing-alongs. This is the best bar in Khao San Road to go to when you're looking for live music and want to take your singing skills to the next level after a few ice-cold Changs.

Busy: 21:00 – 00:30
Music: Live band

5. The One

Easily recognized by its eye-catching stage-like design, The One is a good option if you're looking for a chilled atmosphere and people watching. This classy, open-air venue really takes Khao San Road to the next level. The venue's sound system and the vibe are family-friendly, and in the early evening, their house DJ will get the crowd pumping and prepared for a crazier night down the road.

Busy: 20:00 – 00:30
Music: EDM, Pop and R&B

6. The Club

Seen most of the bars on this list and looking for something different? Then head to "The Club" which is the best on Khao San Road. The Club has everything you need: a huge dance floor, ear-pumping sound system and modern lighting, lasers and CO2 cannons. This is the top place on Khao San Road to dance until the early hours. However, don't bother rocking up before 11 PM as there won't be many fellow clubbers to rock with.

Busy: 23:00 – Late
Music: EDM, Hip-Hop



Local frequented

Of course, it's nice to meet fellow globetrotters on your trip to Thailand. However, if you want to spend the night amongst locals, then the bars below are the Best Bars on Khao San Road for you.

7. Hippie de Bar

Don't let the small, tucked away entrance fool you. Hippie de Bar features a two-story, cosy venue with a hippie-inspired interior. This bar on Khao San Road is where Thailand's hip young people go. The relaxed, laidback atmosphere and playlist full of the '80s and indie classics make this a good bar if you're travelling with family or looking for pre-drinks. Indulge yourself with one of their cocktails or order an icy Chang.

Busy: 21:00 – Late
Music: 80's and indie classics

8. Brick Bar

The immensely popular music institution Brick Bar is where locals go for their Khao San kick. The bar features a few local house bands blasting Thai indie, reggae and pop covers and sing-alongs. The bar can be a bit hard to find, as it's tucked away in the complex where you can find McDonald's and Mulligans. If you want to do as the locals do, order a bottle of whiskey-soda and toast your new friends at the table next to you.

Busy: 21:00 – Late Music: Thai live band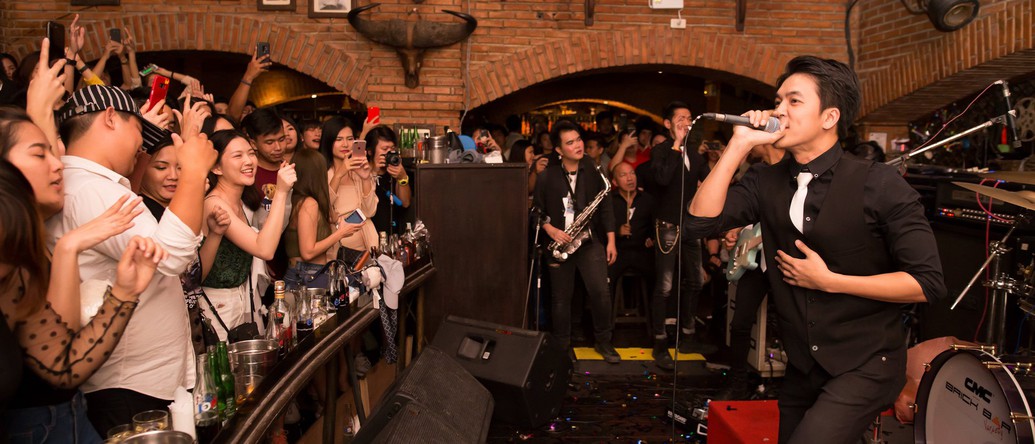 9. Mulligans

Mulligans Irish Bar is Khao San Road's most happening pub. The local band gets the crowd dancing until the early hours of the morning with Thai and Western classics. Sip on a glass of Jameson whiskey or one of their many beers. You can take shots here late into the night as this bar has some of the longest opening hours on Khao San Road.

Busy: 21:00 – Late
Music: Live band



There you have it, our list of the best bars on Khao San Road. When visiting Bangkok and in particular Khao San Road, you might want to read our article about the best local restaurants near Khao San Road. Khao San Road and its connected neighbourhoods are known for their famous food. And if you're interested in more food options, check out our food app called TopTravelFoods. Instead of recommending good restaurants, we recommend dishes that are famous in these local restaurants. Especially when you don't have the knowledge of the Thai gastronomy, it helps you try tasty dishes that you otherwise would never choose. The app is completely free and available for both iOS and Android.
Like what you read? Rate Article